Context
Homotopy theory
homotopy theory, (∞,1)-category theory, homotopy type theory
flavors: stable, equivariant, rational, p-adic, proper, geometric, cohesive, directed…
models: topological, simplicial, localic, …
see also algebraic topology
Introductions
Definitions
Paths and cylinders
Homotopy groups
Basic facts
Theorems
Cohomology
Special and general types
Special notions
Variants
Operations
Theorems
Manifolds and cobordisms
Contents
Idea
Where homotopy groups are groups of homotopy classes of maps out spheres, , cohomotopy groups are groups of homotopy classes into spheres, .
If instead one considers mapping into the stabilization of the spheres, hence into (some suspension of) the sphere spectrum, then one speaks of stable cohomotopy. In other words, the generalized (Eilenberg-Steenrod) cohomology theory which is represented by the sphere spectrum is stable cohomotopy.
In this vein, regarding terminology: the concept of cohomology (as discussed there) in the very general sense of non-abelian cohomology, is about homotopy classes of maps into any object (in some (∞,1)-topos). In this way, general non-abelian cohomology is sort of dual to homotopy, and hence might generally be called co-homotopy. This is the statement of Eckmann-Hilton duality. The duality between homotopy (groups) and co-homotopy proper may then be thought of as being the special case of this where is taken to be a sphere.
Properties
Hopf degree theorem
(e.g. Kosinski 93, IX (5.8))
Poincaré–Hopf theorem
Relation to Freudenthal suspension theorem
relation to the Freudenthal suspension theorem (Spanier 49, section 9)
Smooth representatives
For a compact smooth manifold, there is a smooth function representing every cohomotopy class (with respect to the standard smooth structure on the sphere manifold).
PT-Construction and normally framed submanifolds
For a closed smooth manifold of dimension , the Pontryagin-Thom construction (e.g. Kosinski 93, IX.5) identifies the set
of cobordism classes of closed and normally framed submanifolds of dimension inside with the cohomotopy of in degree
(e.g. Kosinski 93, IX Theorem (5.5))
In particular, by this bijection the canonical group structure on cobordism groups in sufficiently high codimension (essentially given by disjoint union of submanifolds) this way induces a group structure on the cohomotopy sets in sufficiently high degree.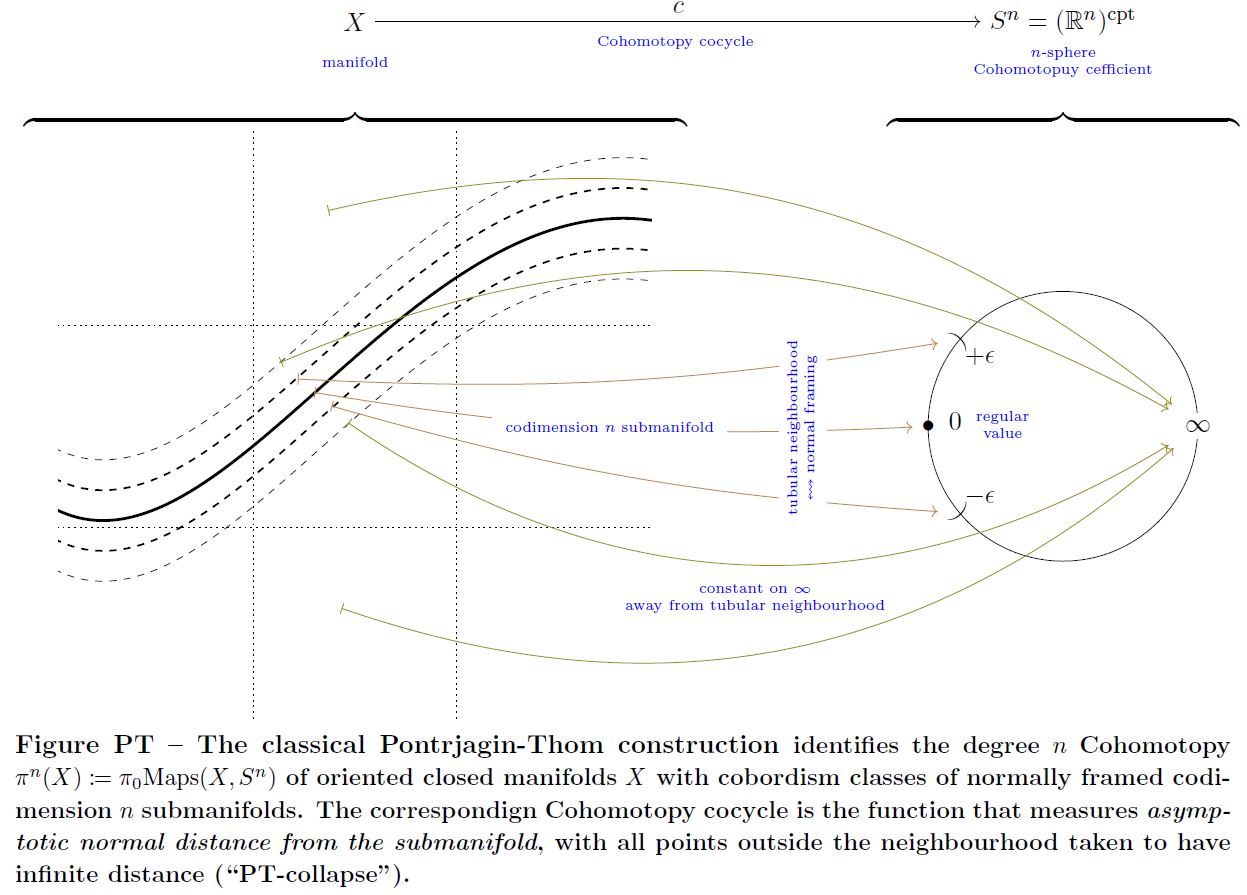 Here the normal framing of the submanifolds plays the role of the charge in Cohomotopy which they carry: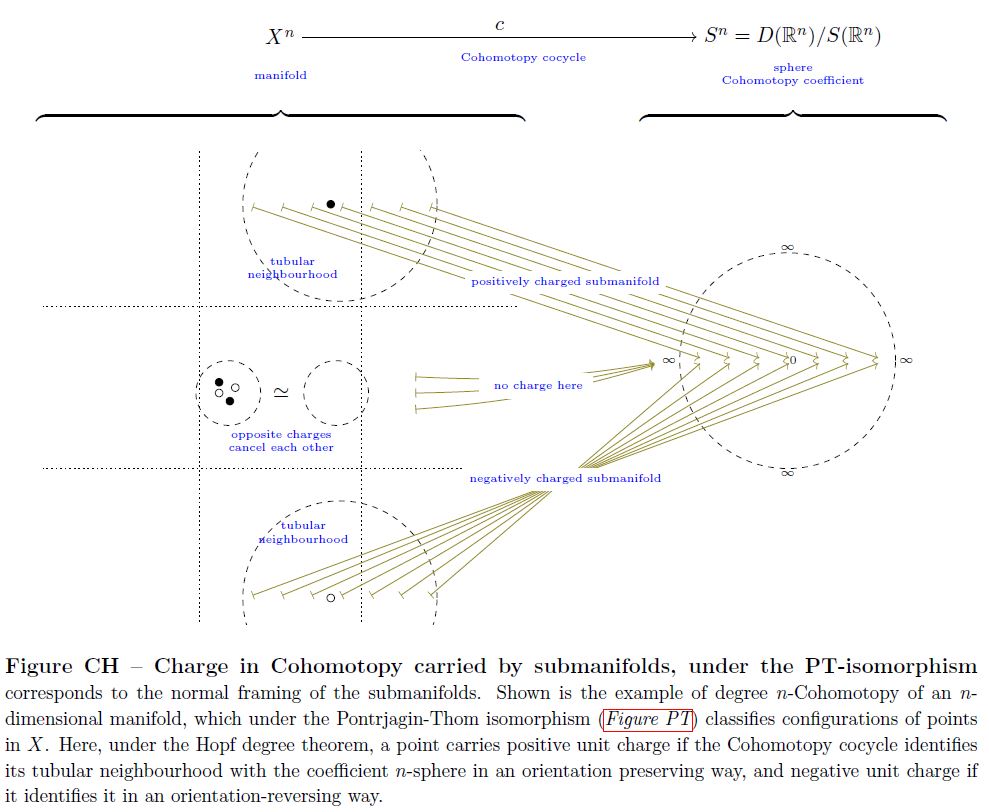 For example: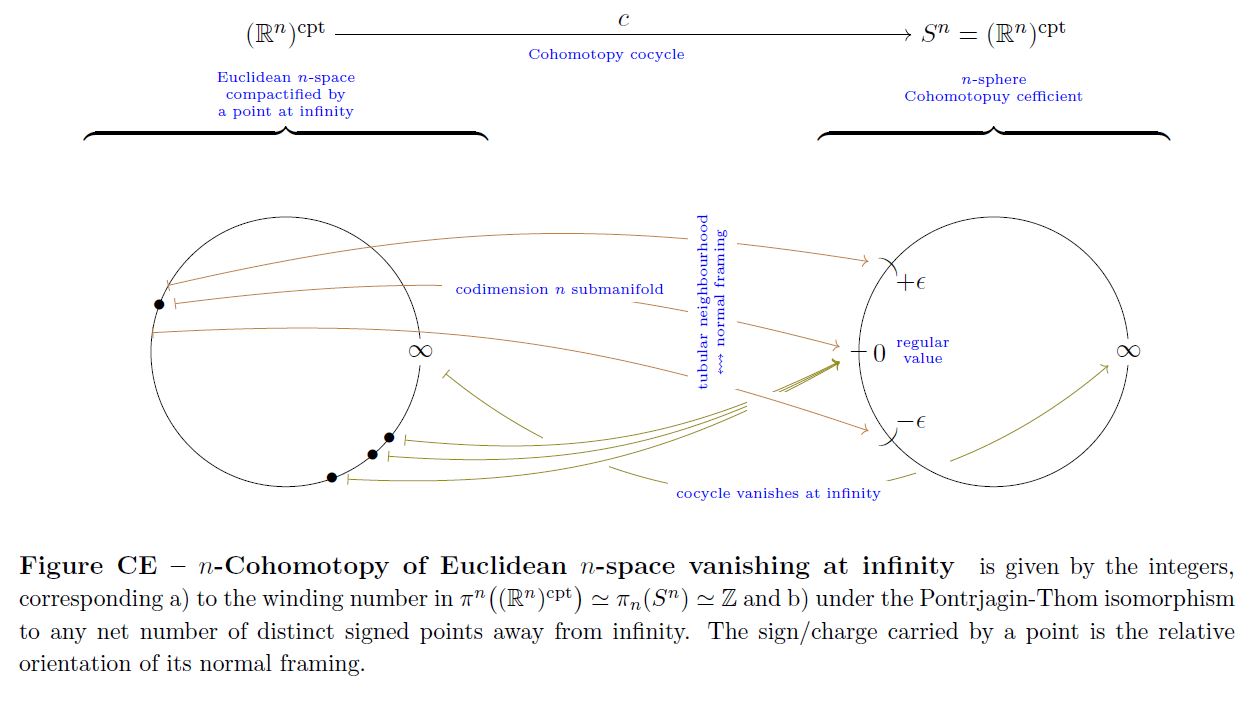 This construction generalizes to equivariant cohomotopy, see there.
With the equivariant Hopf degree theorem the above example has the following -equivariant version (see there):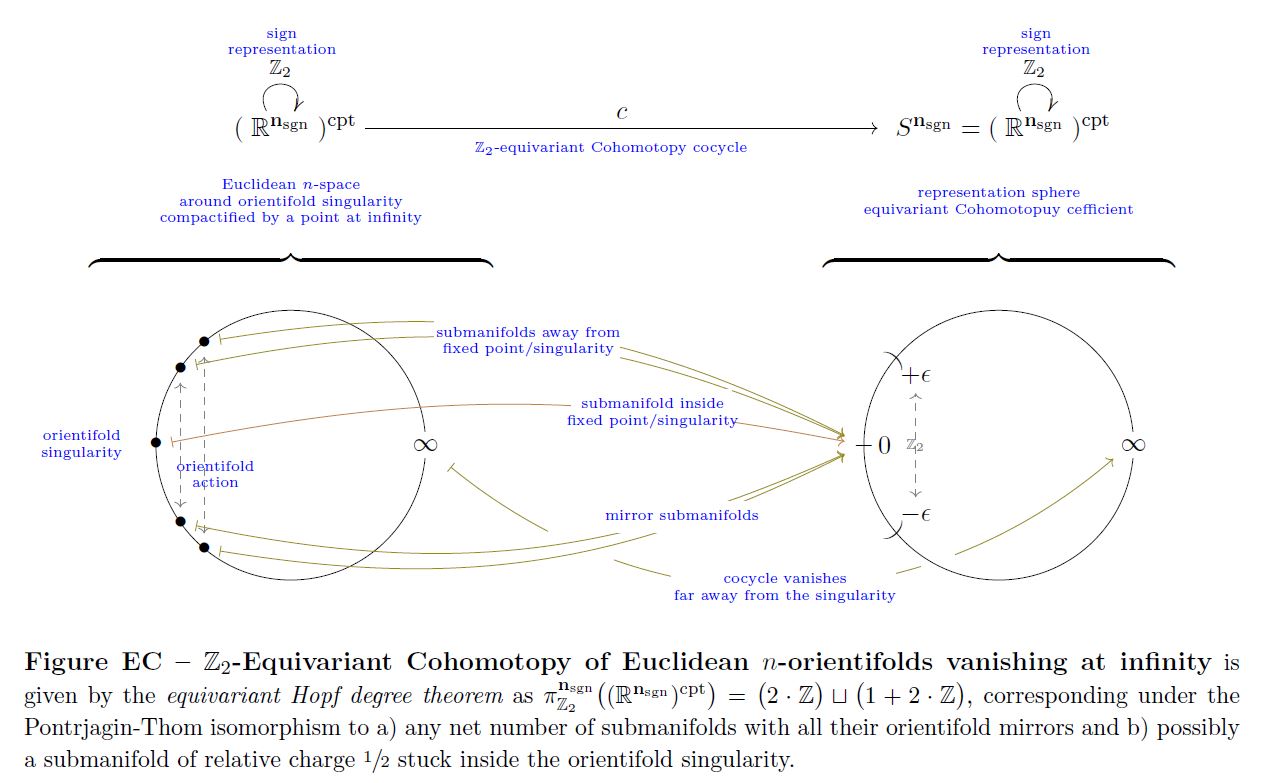 Further by the equivariant Hopf degree theorem (see there), this example generalizes to equivariant cohomotopy of toroidal orientifolds: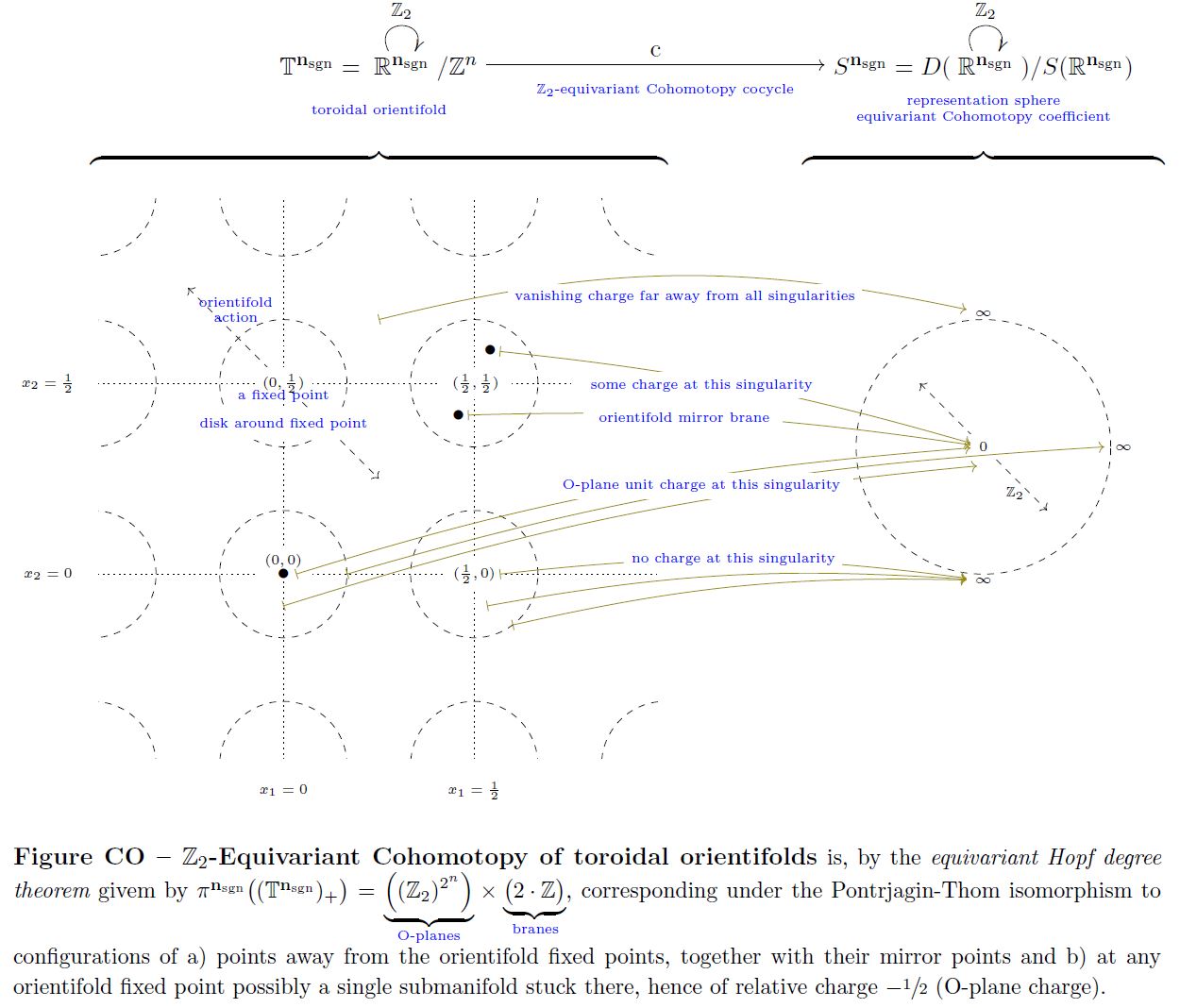 Relation to configuration spaces
Examples
Of 4-Manifolds
Let be a 4-manifold which is connected and oriented.
The Pontryagin-Thom construction as above gives for the commuting diagram of sets
where denotes cohomotopy sets, denotes ordinary cohomology, denotes ordinary homology and is normally framed cobordism classes of normally framed submanifolds. Finally is the operation of pullback of the generating integral cohomology class on (by the nature of Eilenberg-MacLane spaces):
Now
References
General
Original articles include
The relation between cohomotopy classes of manifolds to the cobordism group is discussed for instance in
Further discussion includes
See also
Equivariant Cohomotopy
Discussion of the stable cohomotopy (framed cobordism cohomology theory) in the equivariant cohomology-version of cohomotopy (equivariant cohomotopy):
and in the twisted cohomology-version (twisted cohomotopy)
Discussion of M-brane physics in terms of rational equivariant cohomotopy:
and in terms of twisted cohomotopy: