Chord diagrams as multi-trace observables in the BMN matrix model
The supersymmetric states of the BMN matrix model are temporally constant complex matrices which are complex metric Lie representations of su(2) (interpreted as fuzzy 2-sphere noncommutative geometries of giant gravitons or equivalently as fuzzy funnels of D0-D2 brane bound states).
A fuzzy 2-sphere-rotation invariant multi-trace observable on these supersymmetric states is hence an expression of the following form: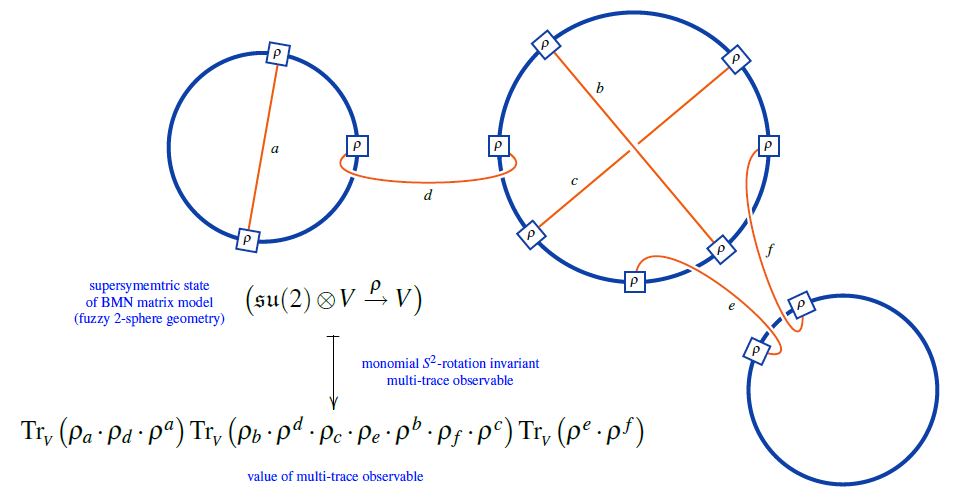 Here we are showing the corresponding string diagram/Penrose notation for metric Lie representations, which makes manifest that
these multi-trace observables are encoded by Sullivan chord diagrams

their value on the supersymmetric states is the evaluation of the corresponding Lie algebra weight system on .
Or equivalently, if is a horizontal chord diagram whose -permuted closure is (see here) then the values of the invariant multi-trace observables on the supersymmetric states of the BMN matrix model are the evaluation of on , as shown here: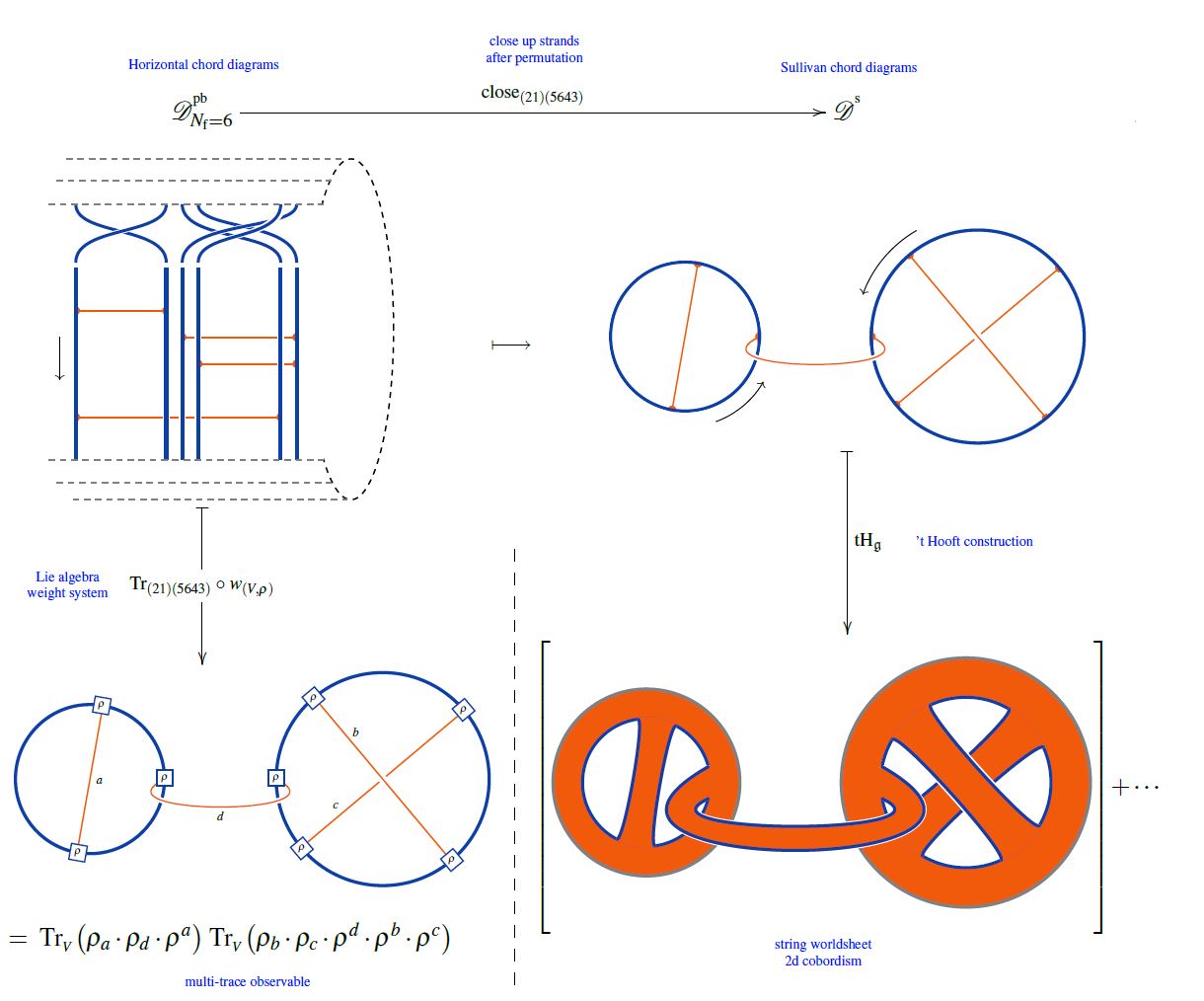 But since all horizontal weight systems are partitioned Lie algebra weight systems this way, this identifies supersymmetric states of the BMN matrix model as seen by invariant multi-trace observables as horizontal chord diagrams evaluated in Lie algebra weight systems.
from Sati-Schreiber 19c
Tom Banks, Michael Douglas, Gary Horowitz, Emil Martinec, AdS Dynamics from Conformal Field Theory (arXiv:hep-th/9808016, spire:474214)

Hong Liu, Scattering in Anti-de Sitter Space and Operator Product Expansion, Phys. Rev. D 60, 106005 (1999) (arXiv:hep-th/9811152)

Laura Andrianopoli, Sergio Ferrara, On short and long multiplets in the AdS/CFT correspondence, Lett. Math.Phys. 48 (1999) 145-161 (arXiv:hep-th/9812067)

Ofer Aharony, Steven Gubser, Juan Maldacena, Hirosi Ooguri, Yaron Oz, Large Field Theories, String Theory and Gravity, Phys. Rept. 323:183-386, 2000 (arXiv:hep-th/9905111)

Massimo Bianchi, Stefano Kovacs, Giancarlo Rossi, Yassen S. Stanev, On the logarithmic behaviour in SYM theory, JHEP 9908 (1999) 020 (arXiv:hep-th/9906188)

Witold Skiba, Correlators of Short Multi-Trace Operators in Supersymmetric Yang-Mills, Phys. Rev. D 60, 105038 (1999) (arXiv:hep-th/9907088)

Eric D'Hoker, Daniel Freedman, Samir Mathur, A. Matusis, Leonardo Rastelli, Extremal Correlators in the AdS/CFT Correspondence, in: The many faces of the superworld (arXiv:hep-th/9908160)

Gleb Arutyunov, Sergey Frolov, A. C. Petkou, Perturbative and instanton corrections to the OPE of CPOs in , Nucl. Phys. B602:238-260, 2001; Erratum-ibid. B609:540, 2001 (arXiv:hep-th/0010137)

Ofer Aharony, Micha Berkooz, Eva Silverstein, Multiple-Trace Operators and Non-Local String Theories, JHEP 0108:006, 2001 (arXiv:hep-th/0105309)

Ofer Aharony, Micha Berkooz, Eva Silverstein, Non-local string theories on times and stable non-supersymmetric backgrounds, Phys. Rev. D65:106007, 2002 (arXiv:hep-th/0112178)

L. Hoffmann, L. Mesref, A. Meziane, W. Rühl, Multi-trace quasi-primary fields of from AdS -point functions, Nucl. Phys. B641 (2002) 188-222 (arXiv:hep-th/0112191)

Edward Witten, Multi-Trace Operators, Boundary Conditions, And AdS/CFT Correspondence (arXiv:hep-th/0112258)

Steven Gubser, Indrajit Mitra, Double-trace operators and one-loop vacuum energy in AdS/CFT, Phys. Rev. D67 (2003) 064018 (arXiv:hep-th/0210093)

Vijay Balasubramanian, Jan de Boer, Bo Feng, Yang-Hui He, Min-xin Huang, Vishnu Jejjala, Asad Naqvi, Multi-Trace Superpotentials vs. Matrix Models, Commun. Math. Phys. 242:361-392, 2003 (arXiv:hep-th/0212082)

Steven Gubser, Igor Klebanov, A universal result on central charges in the presence of double-trace deformations, Nucl. Phys. B656 (2003) 23-36 (arXiv:hep-th/0212138)

P. J. Heslop, Paul Howe, Aspects of =4 SYM, JHEP 0401 (2004) 058 (arXiv:hep-th/0307210)

Thomas Hartman, Leonardo Rastelli, Double-Trace Deformations, Mixed Boundary Conditions and Functional Determinants in AdS/CFT, JHEP 0801:019, 2008 (arXiv:hep-th/0602106)